Tools, techniques, ideas and reflections regarding the current and future state of journalism came to the fore during the 3-day Virtual Journalism Forum held by iMEdD to mark our two-year anniversary.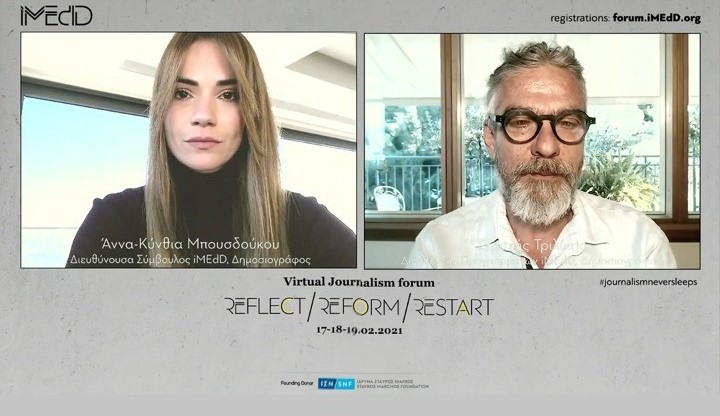 36 speakers, 11 different sessions attended by registered users, the live avant-premiere of filmmaker Yorgos Avgeropoulos' documentary "Parontes" (Present) – iMEdD's first documentary production in collaboration with Small Planet Productions – and a discussion on journalism in the time of the Covid-19 crisis, which was part of Stavros Niarchos Foundation's (SNF) DIALOGUES Parontes (Present): Is the news on lockdown? took place during the forum (at forum.imedd.org) on February 17, 18 and 19.
The first day, entitled Reflect, was dedicated to reflecting on the new reality shaped by the pandemic, and gave an overview of how this year has affected journalism and society, but also of what the pandemic has meant for news coverage and reporting, while emphasizing the need for all of us to remain present.
Events:
– Filmmaker Yorgos Avgeropoulos' documentary "Parontes" (Present): iMEdD's first documentary production in collaboration with Small Planet Productions records every aspect of people's lives in this newly shaped reality and features exclusive personal accounts; from competent government staff that have been managing the health crisis since the pandemic onset, to hospital directors and staff who faced shortages or were strained by ICU load, as well as members of the clergy who discuss the sacrament of communion in the age of COVID-19.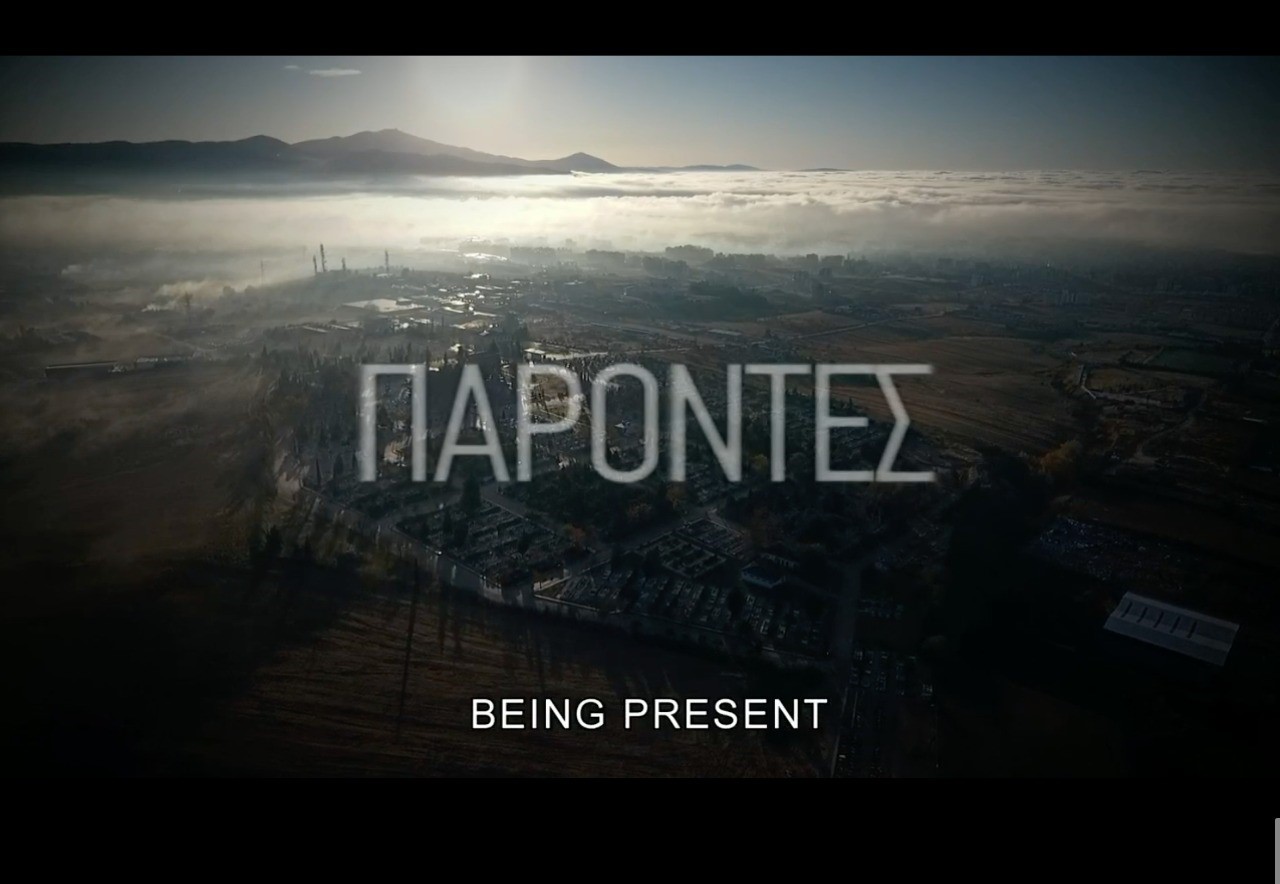 The documentary was only available on the first day of the forum. Dates and times of its official premiere will be announced soon, as well as the online screening schedule that will follow.
–Stavros Niarchos Foundation's (SNF) DIALOGUES Parontes (Present): Is the news on lockdown?: an open discussion on journalism during the Covid-19 crisis. The discussion, which was curated and moderated by Anna-Kynthia Bousdoukou (iMEdD Managing Director, SNF DIALOGUES Executive Director, Journalist), was attended by Yorgos Avgeropoulos (filmmaker), along with: Elena Apostolidou (journalist), Sofia Exarchou (screenwriter, director, producer), Marianna Kakaounaki (journalist), Giannis Kolesidis (photojournalist), Kostas Koukoumakas (journalist), Giorgos Moutafis (photojournalist, cinematographer), Giannis Drenogiannis (journalist), Alexia Tsagari (reporter, cinematographer), Phoebe Fronista (journalist, producer, videographer) and Fenia Hala (journalist).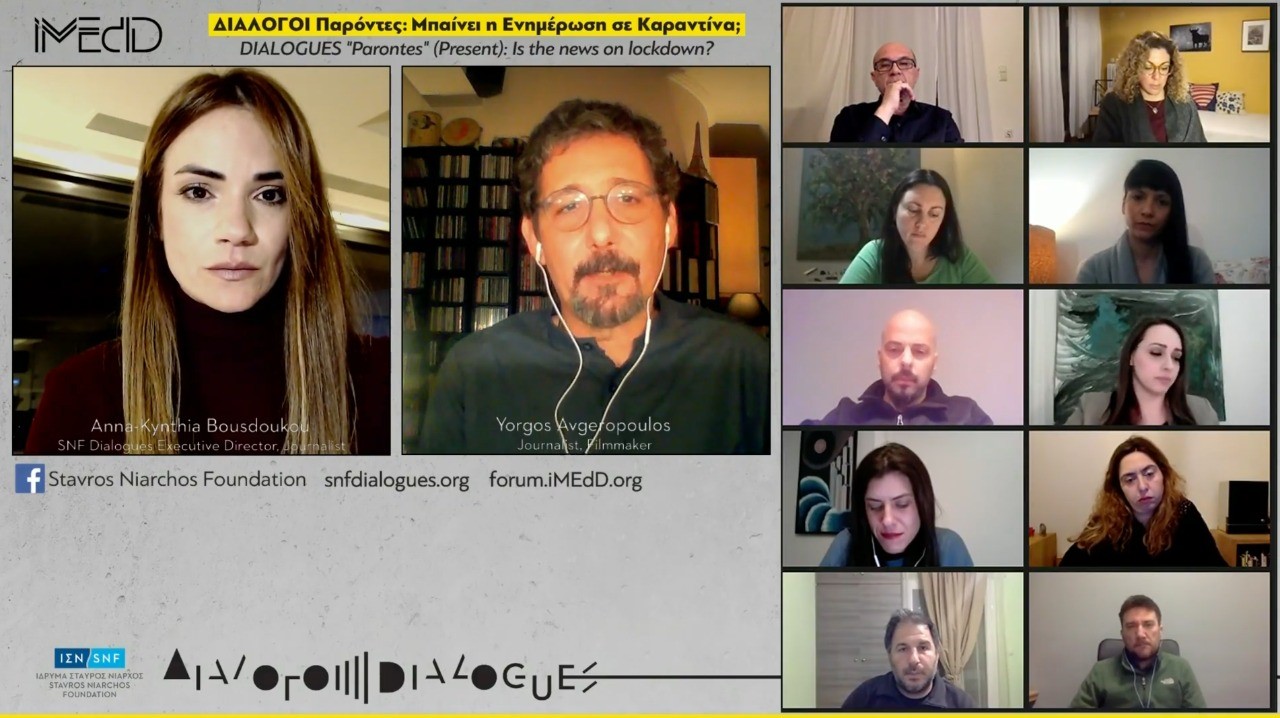 On the 2nd day of the Virtual Journalism Forum entitled "Reform", new tools and techniques for the future of journalism were explored.
Events:
–Workshop "The right of access to public information as a tool for journalistic investigations": Helen Darbishire (Access Info Europe) and Stefanos Loukopoulos (Vouliwatch) gave examples and tips on how journalists can draw useful information from public bodies to carry out their investigations.
–Flash Session "Dos & Dont's while working with COVID data": Kelly Kiki and Thanasis Troboukis, project managers at iMEdD Lab and Journalists, presented good practices for the normalization of epidemiological data based on local populations, and discussed excess mortality, the inclusion of tests in the analysis of data on confirmed cases and different countries' policies on testing.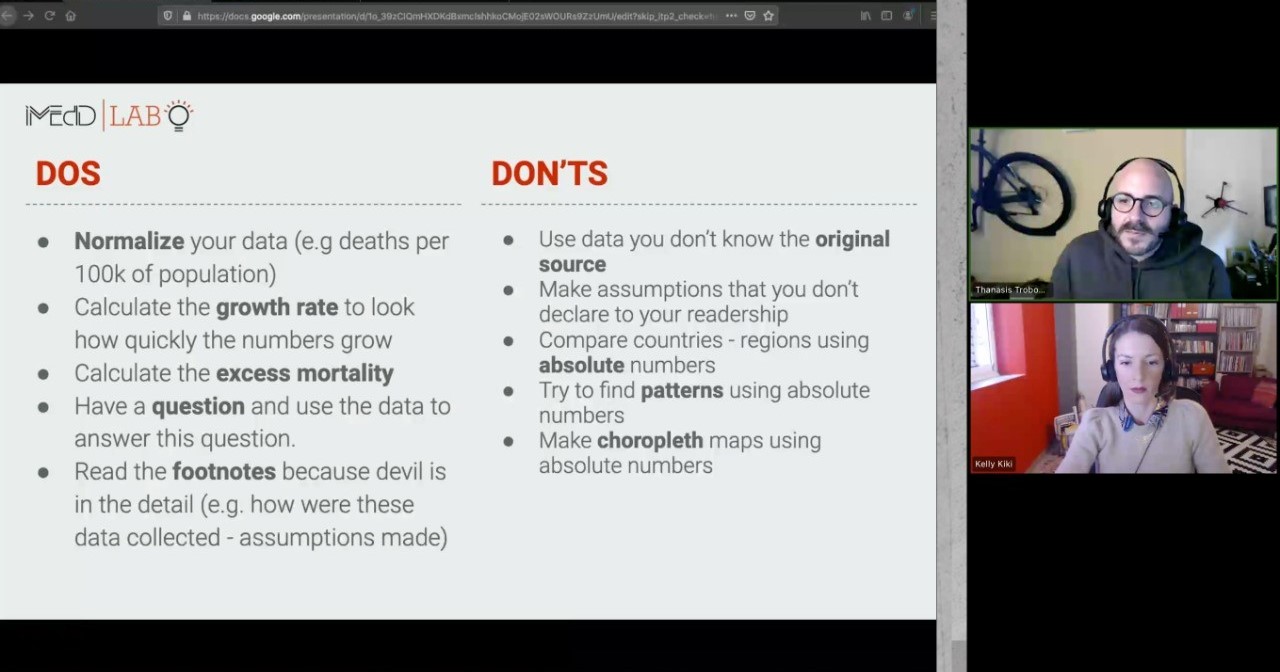 –Workshop "Maps Can Be for Video Professionals, Too": Paul Franz, Chief Innovation Officer SNF, illustrated how the use of maps can be an important tool of journalistic storytelling, and in many cases, how a map can be a story in itself.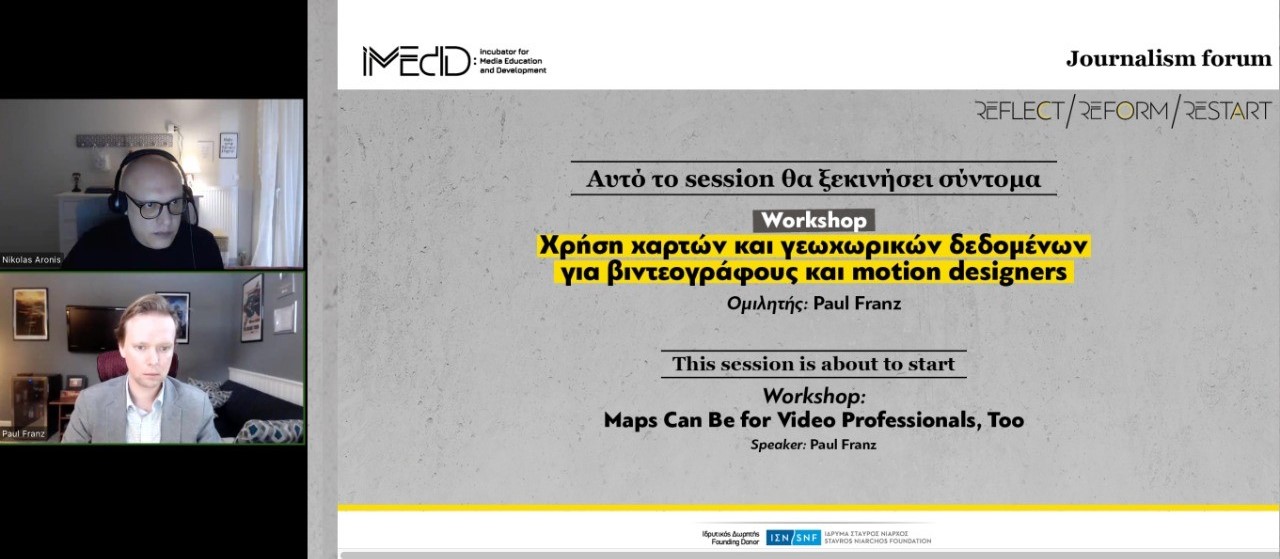 -Flash Session "Social Media for Journalists": Efthymios Savvakis, Content Strategist, presented social media best practices that journalists should follow in order to promote their work and participate in public discourse.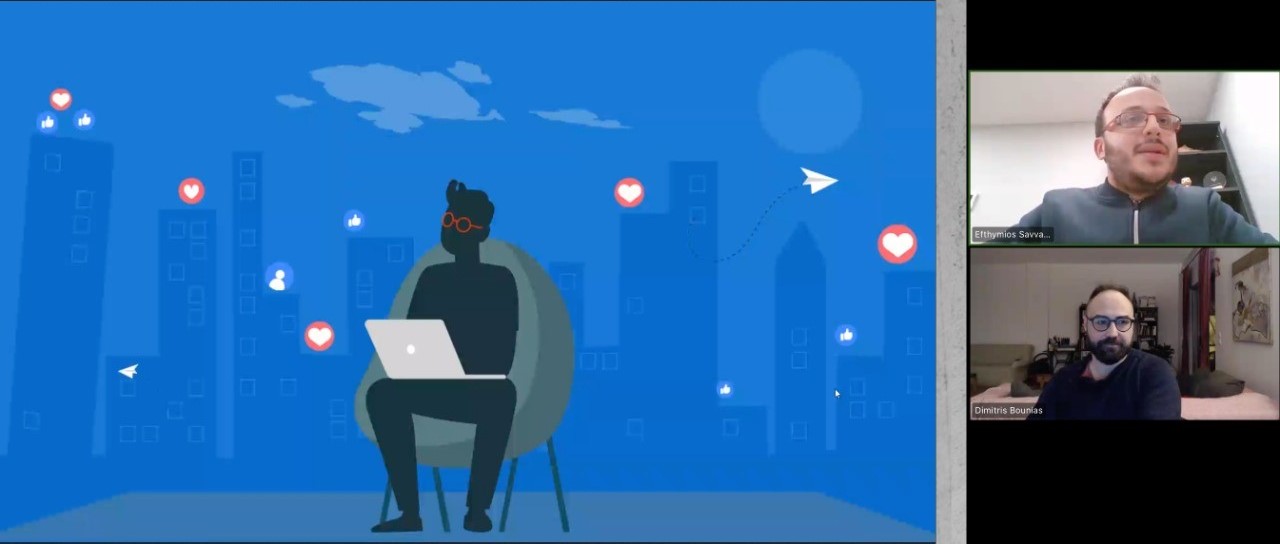 –Workshop "Tracking people on social media": Paul Myers, BBC research specialist, laid out modern techniques for searching and finding people online, which facilitate the work of investigative journalists. During the workshop, participants were given the opportunity to witness live demonstrations of how the methodology is applied to search for hidden information on the Internet and ask Paul Mayers questions about the challenges of online research.
During the third and final day of the Forum, entitled "Restart", the restart of journalism was discussed, and modern tools and techniques were presented by renowned Greek and International academics and professionals.
Events:
–Panel "Press Freedom, Diversity and Inclusivity in Journalism": discussion on current and perennial issues of representations of society in journalistic output, the (beleaguered) press freedom, the intersection between these two topics, as well as relevant studies and international organization initiatives. The discussion, which was moderated by journalist and screenwriter Maria Luca, was attended by Nathalie Applewhite, Director of Strategic Development at Pulitzer Center, Federica Cherubini, Head of Leadership Development at the University of Oxford's Reuters Institute for the Study of Journalism (RISJ), Christophe Deloire, Secretary-General of Reporters Without Borders (RSF), and journalist Nina Goswami, BBC's Creative Diversity Lead.
–Presentation "The evolving practices in the interactive and immersive documentary": Dr. Judith Aston, founder of i-Docs, talked participants through the ways new technologies can reshape documentaries, turning linear storytelling into a multilayered experience.
–Presentation "Οpen Source Intelligence Tools for Investigation in Journalism": OpenFacto's Herve, illustrated various journalistic tools for retrieving and documenting information from the Internet using specific examples, while simultaneously developing the five basic principles of Open Source Intelligence (OSINT) and the latter's impact on investigative journalism.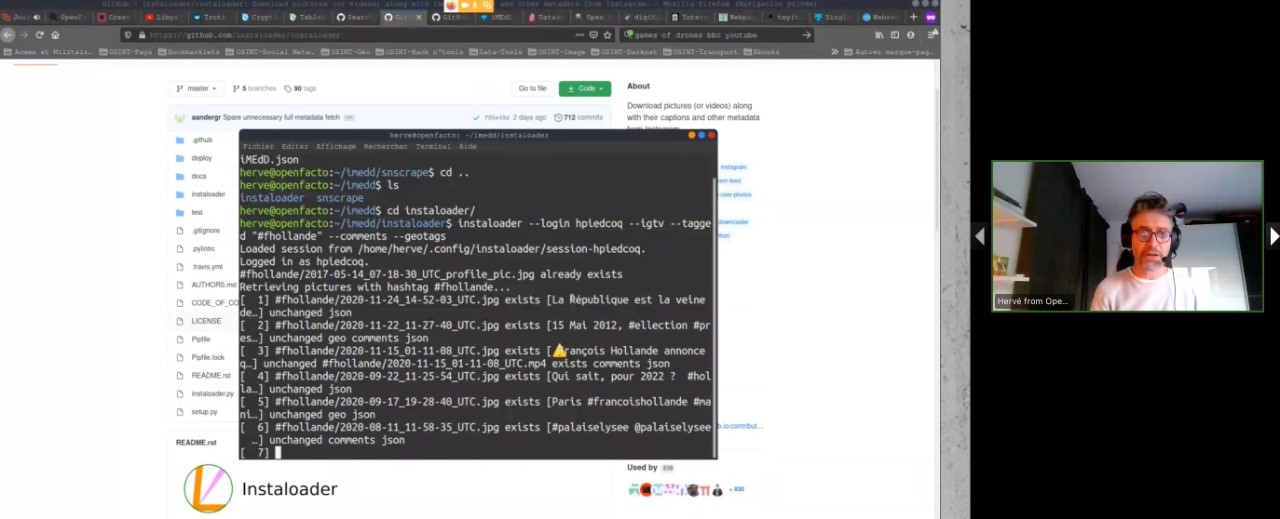 –Flash session "Podcasts 'explosion'": journalist Panagiotis Menegos' interview with Patrick Radden Keefe, investigative journalist for the New Yorker and writer, whereby Patrick peered into the pandemic's contribution to the explosion of podcasts in 2020, focusing on his own pod "Wind of Change", where he looked into the rumor that the CIA was behind the homonymous Scoprions song back in 1990, in an effort to bring about the end of the Cold War.
–Panel "Thinking Journalism from scratch", which was moderated by journalist and ICFJ Knight Fellow, Hannah Ajakaiye, and featured four international speakers: David Dieudonné, Google News Lab Lead in France, Italy and Spain, presented tools and initiatives for the integration of artificial intelligence in journalism. Emily Bell, Director of the Tow Center for Digital Journalism at Columbia Journalism School, pointed out ethical issues associated with the management of information by technology giants in the digital environment, as well as data protection and privacy. Journalists Michael Kimmelman, critic/columnist for the New York Times and founder of the Headway initiative, and Ian Urbina, founder of the Outlaw Ocean Project, discussed the dynamics of "slow journalism" and transmedia storytelling respectively. At the same time, they shared their experiences in philanthrojournalism and non-profit journalism, discussing various projects they lead.
All sessions were moderated by iMEdD journalists and project managers Nikolas Aronis, Dimitris Bounias, Kelly Kiki, Panagiotis Menegos and Thanasis Troboukis.
Facts & Figures
0

days

0

speakers

0

sessions