"These days have been difficult. We'll see…" read the message I received on Signal after an interview request on May 13. We managed to talk several days later. "We should do it late at night tonight, when it's quiet." That same evening, he didn't reply to my message. Nor did he the following days. All my texts on Signal have remained "unseen" ever since.
K. is one of the Greeks fighting in Ukraine on the side of the Ukrainian forces. It took the mediation of a powerful family of Greeks who live in Odessa and have dedicated themselves to defending the country from the Russians to get to him. K. is not among those trying to hide. His Instagram profile, although private, is full of photos from the frontline.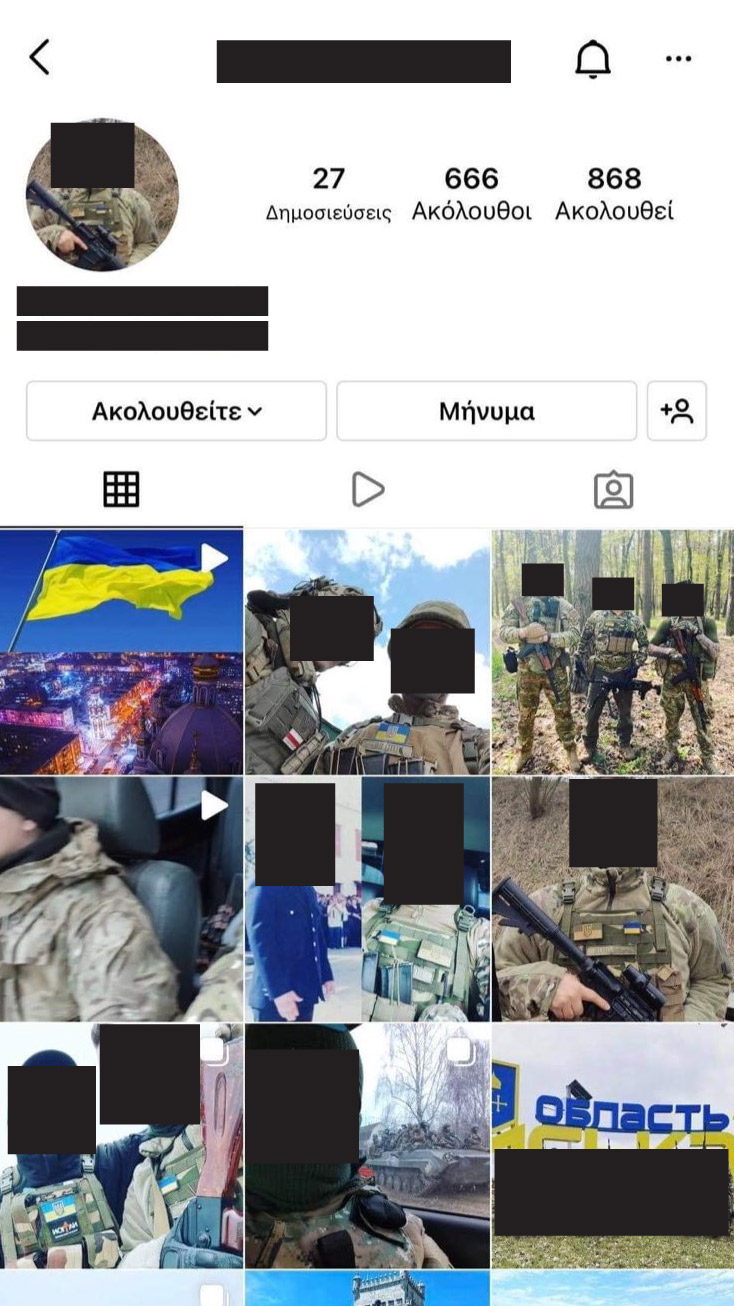 Next to his handle and picture, the Greek and Ukrainian flags are displayed side by side. In the last photos, he poses in military uniform with gun in hands. In some of them, he can be seen with other soldiers in a forest. K. is not the only Greek who went to Ukraine to fight.
The Greeks Of The Legion
A few days after the Russian invasion of Ukraine, a group of about 20 Greeks found themselves in an office two blocks from Omonia Square in the centre of Athens. They were met by a man who claimed he could help them join Ukraine's International Legion without them having to go through the Ukrainian Embassy in Athens. The Legion is a unit of international volunteer soldiers, created at the request of President Volodymyr Zelensky and incorporated in the Ukrainian armed forces. According to international media, ten days into the Russian invasion of Ukraine, some 20 000 people from 52 countries expressed a wish to join the Legion.
However, the group of 20 Greeks who wanted to fight alongside the Ukrainians needed to remain invisible. Most of them were ex-armed forces personnel, i.e. ex-military getting a pension from the Greek state, which, apart from defense supplies and humanitarian aid, has not sent any heavy weaponry – or fighting forces, for that matter – to Kiev.
A few days after the meeting in downtown Athens, the group of 20 Greeks are reported to have travelled to the Polish-Ukrainian border. They stayed overnight in one of the border hotels where volunteer soldiers from around the world had been waiting for weeks to be cleared for entry to the war-torn country. Their documents were taken care of by Western war veterans staying in the same border hotels and working with Ukrainian liaisons. A few days later, the 20 Greeks were granted access to the country for the duration of the war and joined the International Legion.
The above account comes from a Greek man who lived in Ukraine before the Russian invasion and who met with us in Athens. Our source used to work in VIP security both in Greece and Ukraine. To get him to talk to us, we had to be vouched for by an employee at a private security company that places armed guards on merchant ships to protect them from piracy.
The source spoke on the condition of anonymity and showed us several videos and photos of the alleged Greek presence in the frontline. As of the time of writing, it has not been possible to verify the authenticity of all the material.
The Two Chosen Ones
"The story begins before the trip of the 20 Greeks to Ukraine," he said. "A man from the Ukrainian services asked me to recommend two holders of European passports who could get in and out of Poland. I referred him to two people I trust." The two people our source is hinting at are Greek ex-military in their 50s. One of them had reportedly served in an airborne medical brigade, and the other in the Greek Special Forces.
"After their retirement, they both worked as personal bodyguards or armed guards on ships" the source said. They didn't join the International Legion; rather, they worked directly for the Ukrainian services. "They are armed and their main job is to escort Ukrainians coming in and out of Poland to transport equipment. They get 3 000-4 000 euros a month."
The two Greeks allegedly appear in one of the videos (VIDEO WA0033) shared with us. Its duration is 15 seconds and, in it, a group of armed men sift through destroyed tanks and debris, perhaps after an airstrike or an ambush. The two Greeks bear no insignia on their uniforms, unlike one of the gunmen, whose bag features the American flag.
We asked our source why no Greek insignia were visible on them. "They are afraid of the reactions when they return. They are former members of the Greek armed forces. They'll be fucked," he replied. One of the Greek volunteers who'd pinned the flag of a maritime security company on his uniform on his first day was ordered to take it off immediately by the volunteer representative.
The Group Of 20
The members of the group of 20 Greeks who'd met in Omonia before joining the International Legion share similar backstories. They're all aged between 45 and 55, most of them retired from the army. A few have also worked as armed guards on merchant ships. "They get up to 500 euros a day if they're involved in a serious incident," said the source, who maintains contact with some in the group. "If they spend the entire day sitting around doing nothing, they get 100 euros."
They went to Ukraine mainly motivated by money, given how pay in maritime security companies has dropped to a humiliating low. At the same time, they really do believe in defending Ukraine against the Russian invaders. "I hope they all make it till the end," the source said. "Those who do, will get a medal." I asked him if they are partisans of the far-right – former Golden Dawn members, perhaps. He broke into a laugh and went on to say, "if any Golden Dawn members ever decided to go to Ukraine, they'd probably stay at the border, looking through binoculars".
Some of the 20 Greeks are said to appear in two videos taken with a mobile phone. The first one, which we have chosen not to publish as some military badges are visible, is 24 seconds long and is a series of short shots. In it, military uniform-clad gunmen are seen getting off a van loaded with war material and ammunition, then entering an abandoned building to set up a machine gun on the roof.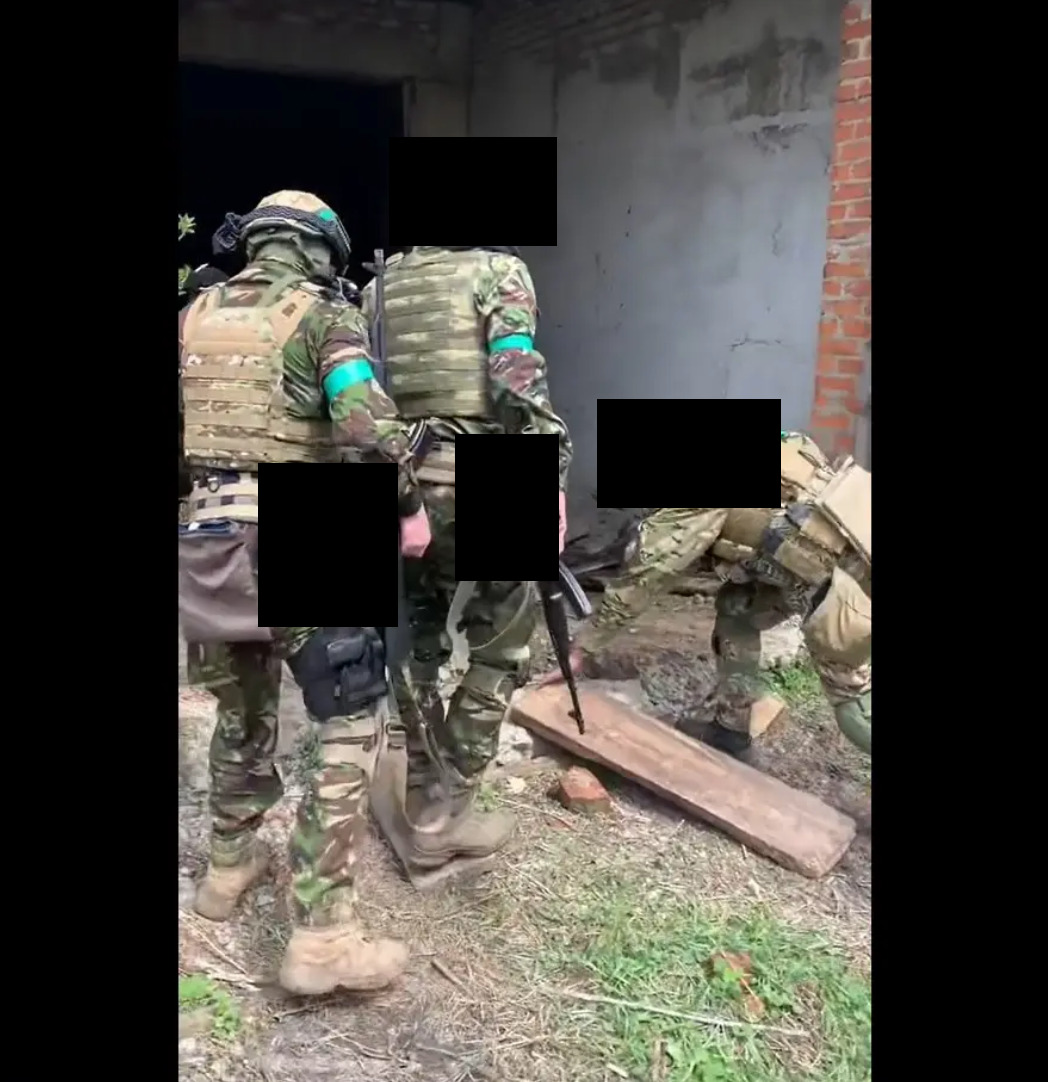 In the second, 19-second-long video, armed men – not all in battledress – walk through the woods. A bunch of anti-tank guns thrown on the ground are seen in one shot, immediately followed by another shot of a damaged tank.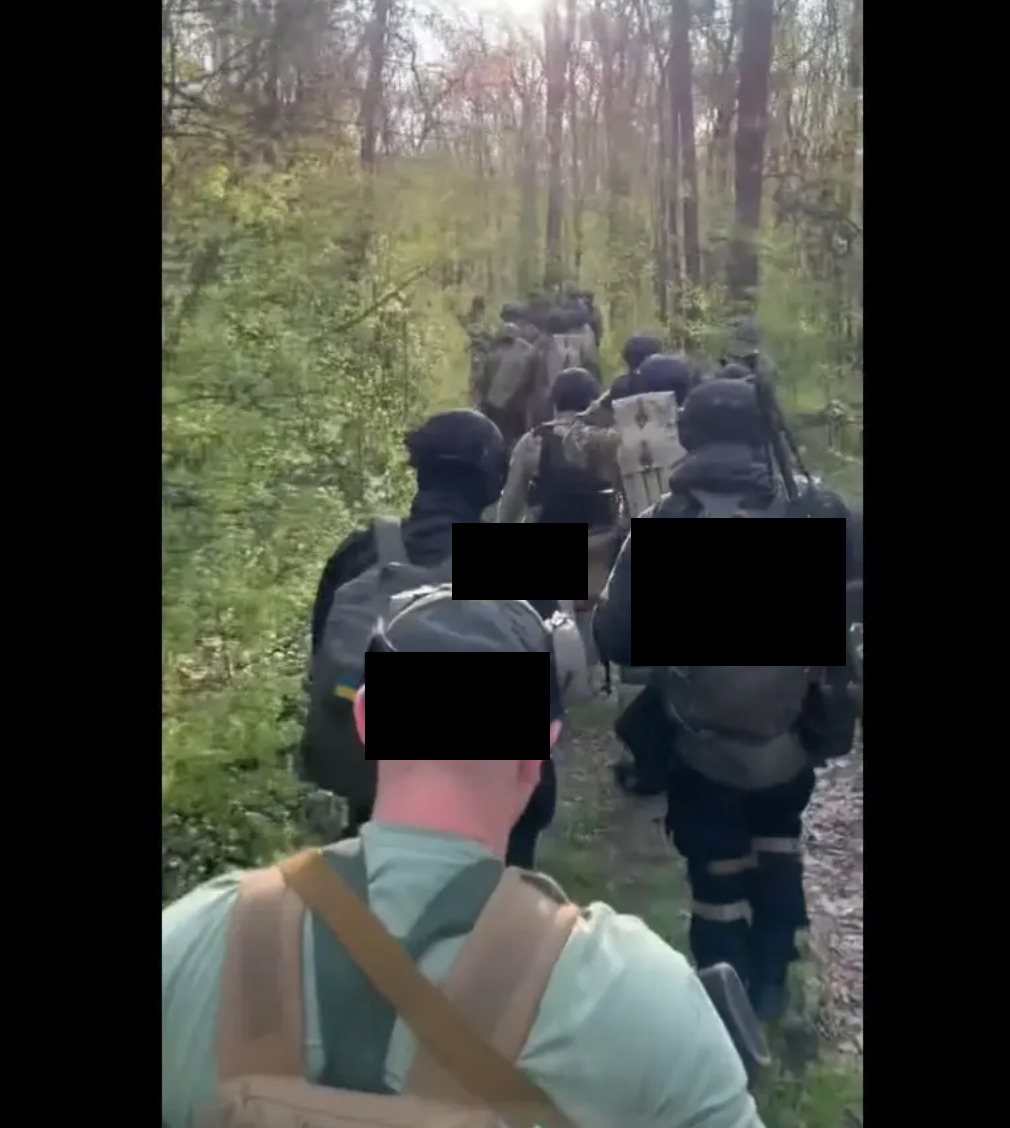 In both videos, green tape is wrapped around the Greek volunteers' arms. Note here that Ukrainian soldiers wear yellow or blue armbands, while Russian forces white ones. When we asked our source what the green colour denoted, they said it was used by special units supporting the Ukrainian forces ("Teraborona").
Mercenaries and Hemingway
How are volunteers paid? The official page of the Legion describes the unit as part of Ukraine's Ministry of Foreign Affairs, which would imply expenses are covered by the country's military expenditure. The unofficial version however, which is probably closer to the truth, says that much of the money for the Legion comes from foreign donors around the world. When we reached out to the Ukrainian Embassy in Athens and the International Legion for more information and an interview request, they did not respond.
Miltiadis Sarigiannidis, associate professor of International Law at Aristotle University of Thessaloniki's Faculty of Law, says that the starting point for the discussion concerning the participation of foreign citizens in the armed conflict in Ukraine is concerned with the phenomenon of mercenaries.
"The definition of mercenary provided both by the Additional Protocol I to the 1949 Geneva Conventions (1977) and the International Convention Against the Recruitment, Use, Financing and Training of Mercenaries, is a very restrictive one, leaving a considerable range of options to states to undermine the prohibition of mercenarism", professor Sarigiannidis notes.
"Russia and Ukraine are signatories to the convention and have reformed their domestic criminal laws in order to ban mercenary activities. However, Ukraine incorporates foreign fighters/volunteers to its Regular Armed Forces and National Guard, whereas Russia justifies the use of private security and military companies on the grounds of not participating directly in the hostilities", professor Sarigiannidis says.
"Overall the armed conflict in Ukraine has shifted to a battleground that involves instances of privatization of war and participation of foreigners that effectively involve mercenarism since 2014. At the same time, all parties to the armed conflict try to almost romanticize this issue publicly as if we read once again Ernest Hemingway's 'For Whom the Bell Tolls'", he adds.
"I'm in Ukraine, I Didn't Make it in the Legion"
Then there are those who never make it in. K. S., originally from Giannitsa, northern Greece, travelled to Ukraine on 26 March, hoping to join the International Legion. He had no previous battlefield experience and was subsequently rejected. "I want to help the Ukrainians drive out the Russians. I didn't call the embassy in Athens, I headed straight to the Poland-Ukraine border and crossed over," he said in a WhatsApp call. His case is somewhat more complex.
"I got in touch with Kiev's International Legion, but they didn't want me. Then I went to Odessa, and then I reached out to Lviv's Legion, but was again rejected. So I ended up in Kiev helping out at the railway station. Now I am in Zaporizhia, volunteering at the Refugee Reception Centre," said K. S. He describes how, when he was in Lviv, he met a fellow Greek from Piraeus who was accepted into the Legion. He also tells me that when he ran out of money and medication, he was hospitalised for three days in a psychiatric clinic in Zaporizhia. "I want to go to Melitopolis," he said in one of his last messages. "There's a guerrilla group fighting there and I want to join them".
Pro-Russians
The video is 37 seconds long. It was uploaded on Twitter on March 16, 2022 and shows a bearded armed man with a beanie hat talking to a Russian media outlet. The anonymous user who tweeted the video captioned it "Greek brother at Sartana, Mariupol".
"Yes, I am really Greek," the gunman says in Russian, and then goes on to proclaim he wants to defend "our big and small homeland" (meaning Russia and Ukraine respectively). The video's authenticity could not be verified.
In that same tweet, someone called "TIGER" (@wrongname46) with a Greek flag emoji in their name is also tagged. When we reached out to them via text, they replied in good Greek that they were tagged "by mistake" and claimed they were in Syria. On their Twitter account they regularly post content from the war in Syria.
Putin and the Greeks
Pro-Russian sentiment in Greece remains strong and, according to public opinion polling in EU countries, Greeks are less likely to condemn the Russian invasion of Ukraine, which they consider "unacceptable but understandable". Discussions with pro-Russians in Athens suggest they harbor feelings of Soviet nostalgia and consider Putin a "great leader" who defends "Russian greatness against a morally debased West".
Most are Pontic Greeks, i.e. populations that traditionally lived on the shores of the Black Sea, which is bounded by former Soviet countries like Ukraine and Georgia. In the 1990s, many Russian-speaking Pontic Greeks moved to Greece, where they formed communities that, to some extent, remain closed to this day.
Having said that, the situation is further complicated by the fact that significant Greek populations still live in eastern Ukraine, in areas controlled by pro-Russian separatists. It is therefore not surprising that some of them have reportedly joined the Russian forces, fighting against the Ukrainians.
According to an article featured in the Greek City Times, an Australian-based news website, a Greek man was killed fighting alongside the Russians on the fourth day of the war. His name is reported to have been Georgy Romanov, 27, originally from the city of Yessentuki in Stavropol Krai, eastern Russia.
The story is credited to the Greek City Times correspondent in Athens, a young man with a Greek name who has not responded to our interview request. His Twitter followers include both the anonymous user who posted the video of the fighter in Sartana and TIGER, the user who told us they were in Syria.
Athens's Russian-Speaking Community
On 3 April, while the war in Ukraine was raging, an unusual "anti- Russophobia" motorcade took place in the centre of Athens. Demonstrators were carrying Russian and Greek flags, some sporting the letter 'Z', an emblem of the Russian invasion, on their cars. Before long, clashes broke out between them and pro-Ukrainian protesters who were also holding an anti-war rally at the same time. In response to these events, Russia's Investigative Committee ordered a probe into the "attacks on Russian citizens" in Athens, Russian news agency TASS reported.
"It was a peaceful demonstration against Russophobia. We were provoked and some of us were beaten," Panagiotis Xanthopoulos, one of the rally's organisers, told me a few days later. A urological surgeon by profession and president of the Panhellenic Association of Pontic Scientists, Xanthopoulos is considered a prominent figure in the Russian-speaking community in Athens. When I swung by his office in Agia Varvara, western Athens, the door was open; it was full of people who weren't only there for medical reasons, but also to seek his advice or simply to say hi.
But what I wanted to find out was whether any Greeks who moved to Greece in the 90s travelled back to Ukraine to join the Russian forces. Pontic Greeks living in Athens, as mentioned above, are a closed society, whose members don't easily open up to strangers, so my task was not an easy one. When I asked them, however, I managed to get a confirmation: "Few, but yes". After talking to several people in the community, I found out that "less than five Greeks" had travelled to Ukraine to fight alongside the Russians. "One of them, the son of a doctor in Crete, was wounded and returned to Greece," a reliable source said. And everyone speaks highly of Thanasis Kosse, a Greek who died fighting in Donbass in 2014. Kosse's family lives in Kallithea, Athens.
"Fania"
"I'm scared. I don't want my name to be published while the war is still on in Ukraine," one of Kosse's relatives told me over the phone. We met in front of a church in Kallithea and he asked me to talk outside in the street. "Thanasis was born in 1965 in the Greek-inhabited village of Rozdolne, outside Donetsk, Ukraine. Everyone called him 'Fania'. He had studied history and in 1995 he helped a journalist make a documentary about the Greek minority in Eastern Ukraine. When the journalist tried to arrange a screening in Thessaloniki, she didn't succeed," the man who knew Kosse better than anyone else told me.
A few months later, "Fania" moved to Athens with his wife and their first kid. "He got a job at a locksmith's in Kypseli, but he had a true passion for making wooden carved tables, proper works of art they were. So he got a job in a big furniture company. In 2000, the couple had a second child, a girl," the source said. In late 2013, having lost his job due to the ongoing crisis in Greece, Kosse returned to Donbass. While looking for a job there, he would do work around the family house. But then the war found him.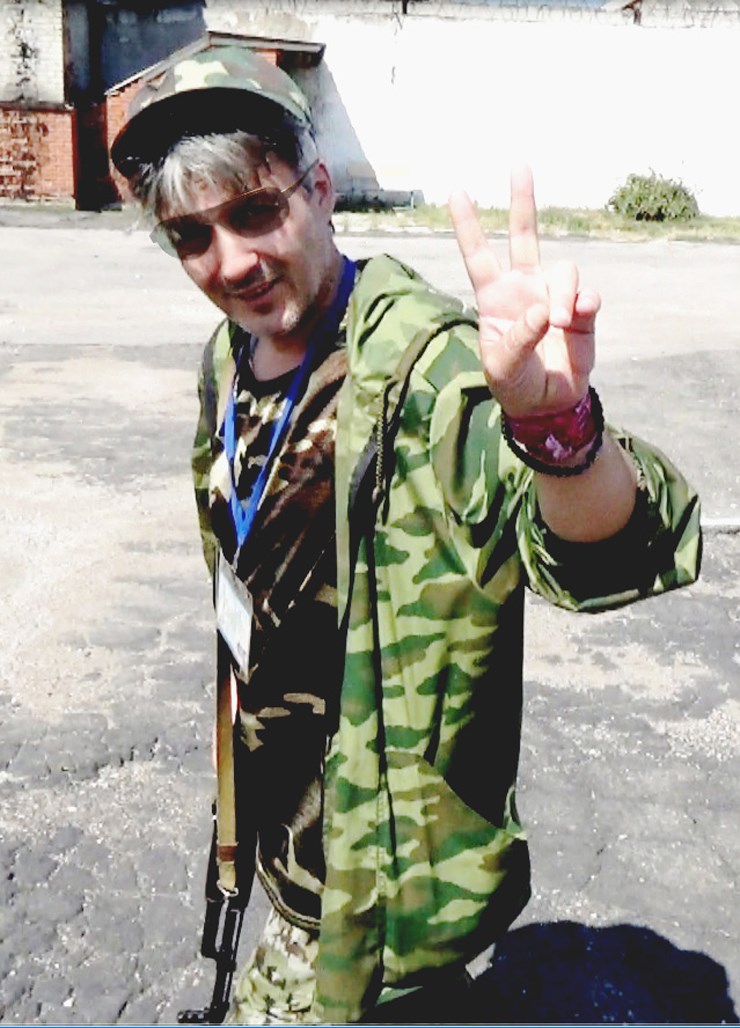 "Thanasis used to say the Ukrainians and the Western media were full of lies. That's why he decided to help Russian journalists covering the events," the man in Athens said. "He carried a gun, but he never fired it." Kosse had told his relatives in Athens that he was keeping notes – "in encrypted slips of paper," – about atrocities committed by Ukrainian forces against Russian-speaking populations. "He would sew the pieces of paper on his clothes or hide them in his shoes and his parents' house. He wanted to document the war crimes committed by Ukrainians," the source revealed.
Kosse was killed on November 18, 2014, near Donbass airport. According to the official report, he was in a car with two people when a bomb fragment hit him in the abdomen. His old friends in Kallithea, however, reckon he was killed by a sniper. "There must have been a mix-up with another Greek guy named Alexandros, who was also killed on the same day," the source said. Kosse was buried in Donbass and was decorated posthumously.
We have sent a written request to the Russian Embassy in Athens for information on Greek people currently fighting for Russia in Ukraine. However, as of the time of publication, no response has been received.
"Victory Day"
He held the photo and the medals his father had earned fighting in the Red Army. Wearing a side cap with a hammer and sickle pin badge, he was visibly emotional. "My father fought from the first to the last day of the war. He made it all the way to Berlin," he said. Gavriil Vahtanidis was among the 50-60 people who gathered in Athens on May 9 in celebration of "Victory Day," as Russians call the anniversary of the 1945 victory over Nazi Germany.
Russian-speaking Greeks of former Soviet Union origin hold an annual commemoration in the centre of Athens. The invasion of Ukraine, however, overshadowed this year's anniversary. They cancelled the main event for fear of riots and simply laid wreaths at the fallen Soviet soldiers' monument in Kallithea, a few kilometres from the centre of the capital. They sang "Katyusha" and left without any tension.
I met Panagiotis Xanthopoulos here again. He had the black-and-orange ribbon of Saint George pinned to his chest and he was carrying photographs of two relatives who fought in the Red Army. "These were Greeks, one was my grandfather," he said. "The other one was the biggest hero of the Soviet Union".