Russia's war against Ukraine has sparked an explosion of interest in what Moscow is up to around the world. With that in mind, GIJN has assembled a kind of starter-toolkit to help journalists track Russian assets, political interference, and disinformation in their countries. From oligarch planes to sanctions trackers, you'll find over 30 useful sites here. We've also included some of the best tools we've seen for following Russia's war on Ukraine. This is a work-in-progress, so be sure to send us your comments and additions.
Finances and Oligarchs
Oligarchs – Who's Who: Forbes is a useful starting point for Russian billionaires. The business magazine's annual Richest People in the World includes 15 Russians among the top 200. Here's a look at 20 oligarchs hit by sanctions, and a guide to their mansions and estates.
Sanctions Black Lists: The Sanctions List Search from the US Office of Foreign Assets Control includes terrorists, crime figures, and war criminals on official US sanctions lists.
Sanctions Tracker: This tracker provides live monitoring of global sanctions against Russia, by GIJN member Correctiv. Search by country, company, and individual.
Business Boycotts: This Twitter thread tracks businesses that have suspended or cut ties with Russia.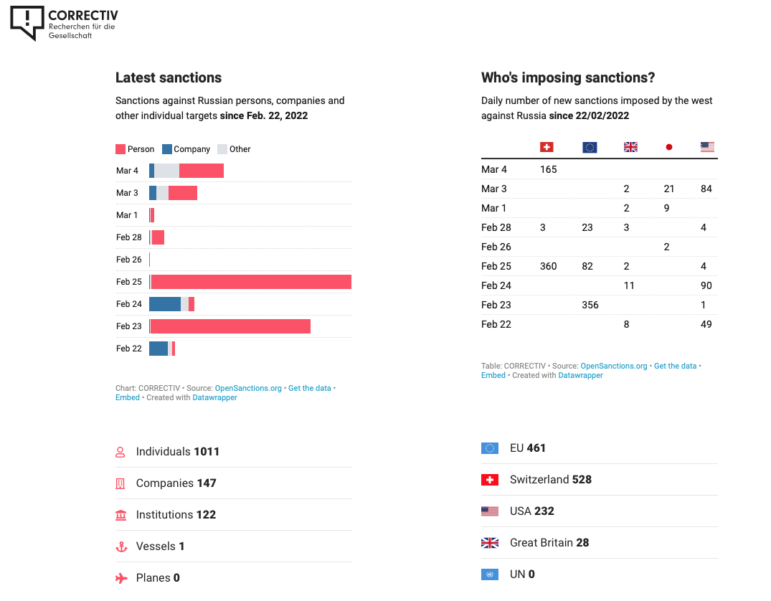 Plane Watch: Started by a first year student at University of Central Florida, @RUOligarchJets on Twitter tracks flights around the world. See also GIJN's Planespotting: A Guide to Tracking Aircraft Around the World.
Ship Watch: To follow Russian ships, check out GIJN's guide Tracking Ships at Sea.
Planes and Ships: Russia's FBK anti-corruption nonprofit used the MarineTraffic and FlightRadar databases to find a super-yacht whose ownership a Putin pal tried to disguise as a gift for his mistress. They searched for shipping departure dates within 24 hours of private jet arrival dates at airports near those ports, and scraped photos on the mistress's social media to confirm the vessel's identity.
Asset Seizure: @ForfeitureTrack on Twitter follows asset seizures and forfeitures of Russian oligarch holdings by US and international authorities.
Persons of Interest: The Aleph database – run by the Organized Crime and Corruption Reporting Project – is a vast public archive of government records and open databases on persons of interest, companies, financial transactions, and more.
Company Registrations: Open Corporates boasts that it is the largest open database of companies in the world.
Offshore Holdings: From oligarchs to Putin's inner circle, search for Russians among more than 800,000 offshore companies, foundations, and trusts in the Offshore Leaks Database by the International Consortium of Investigative Journalists.
Imports/Exports: The UN Comtrade Database offers data on imports and exports by country and goods. Check it to find what Russia is buying from and selling to your country, including weapons and tech.
Disinformation and Fact-Checking
#UkraineFacts: The International Fact-Checking Network has launched a global collaboration, #UkraineFacts, to highlight propaganda, disinformation, and misinformation on Russia's invasion of Ukraine.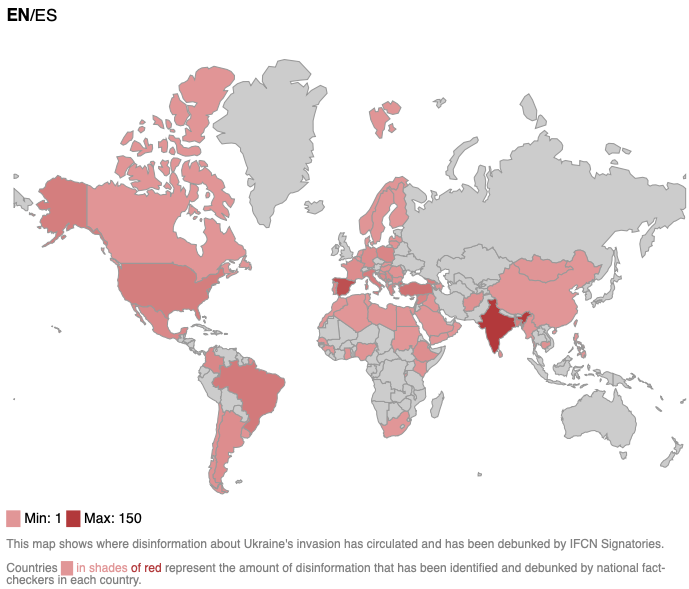 Digging Out the Roots of Disinformation: Here's a GIJN road map from two top journalists on the disinformation beat for tracking down who's behind a propaganda campaign.
Search Telegram: Russian-built Telegram has become a major platform for anti-democratic groups around the world, including pro-Kremlin propagandists. Search for disinformation origins and conversations about the war in Google with the command Site:t.me followed by a space and your keywords – and analyze the useful channels you find using the tgstat.com tool.
Russian Foreign Interference
Tracking Russian Spies: Have a name you want to check? Use Telegram digging bots like Eye of God and QuickOsintBot; face comparison tools like Azure; and leaked people databases like Cronos that are effective for Russian searches. There are also some potentially useful black market Russian databases – as well as discussion of the ethical considerations about their use – in this GIJN story on the online tools that exposed the state-backed poisoning of Alexei Navalny.
Electoral Intervention: This academic paper includes a data set of Russian interference in 27 foreign elections in 16 countries from 1991 to 2017.
Political Intervention: A US Senate investigation into Russian political intervention cites cases in 19 European countries.
War in Ukraine
Map – Military Movements, Attacks: Liveuamap is an interactive map with links to video and photo evidence of military movements, strikes, and other events.
Map – Significant Incidents: This crowdsourced map by the Centre for Information Resilience, Bellingcat, Mnemonic, Conflict Intelligence Team and others documents and verifies significant incidents in the conflict.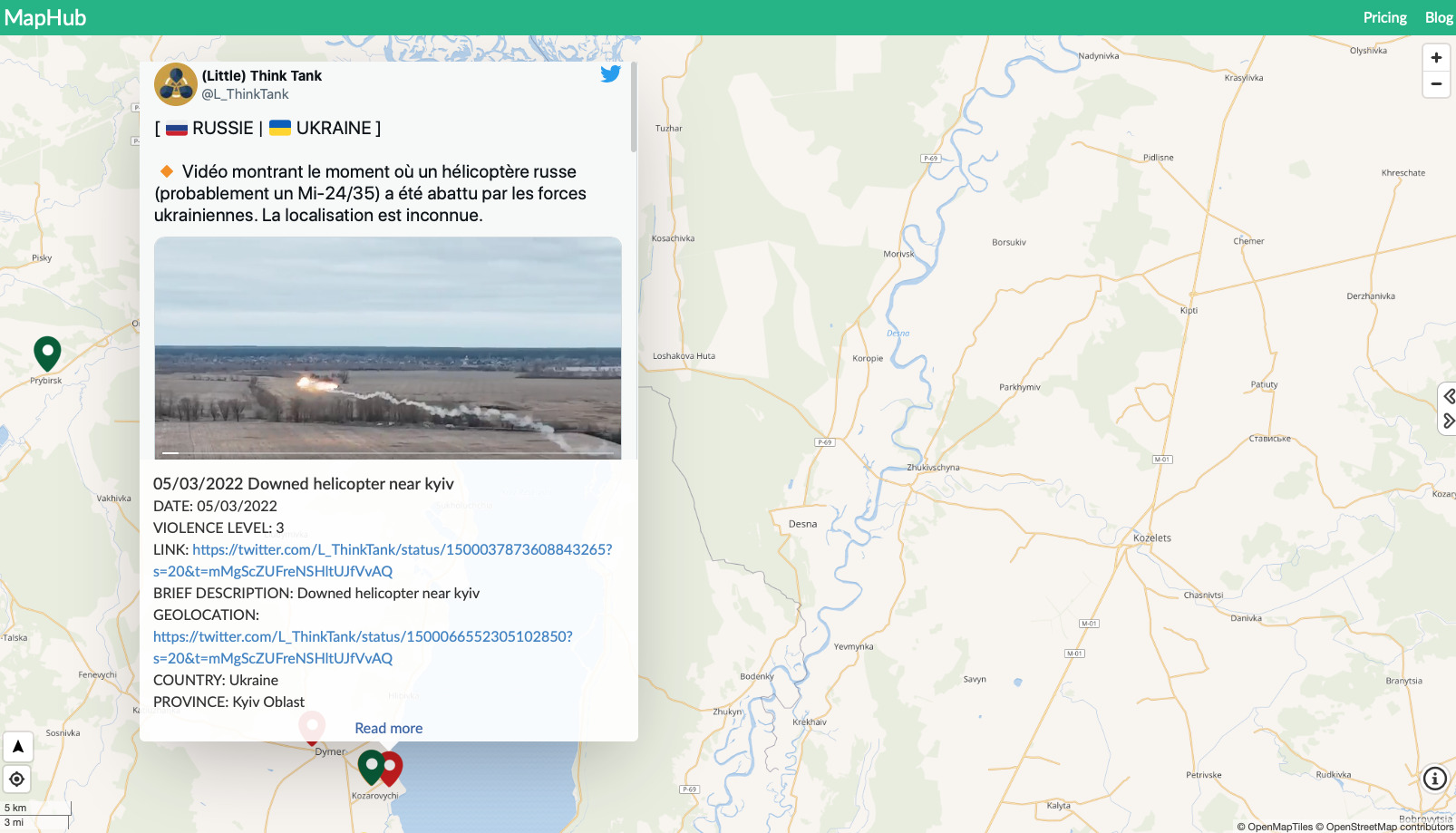 Maps – News Media: Datawrapper's Lisa Charlotte Muth posted a long tweet thread linking to resources and articles from over 40 newsrooms about the conflict, with plenty of maps.
Tracking Russian Military Vehicles: This Bellingcat guide uses license plates to track the movement of Russian military vehicles.
Tracking Russian Military Aircraft: This flight tracker looks at movements of Russian military aircraft.
Soldier/Official Identifier: InformNapalm, a multinational volunteer effort, identifies Russian military servicemen and government officials, and debunks Russian propaganda.
War Crimes: GIJN's guide covers 15 steps to documenting war crimes, from verification and archiving to dealing with security and trauma.
Find a Source: Ukrainian communications professionals have formed a volunteer service to connect journalists to experts, reporters, eyewitnesses, photos, and video from inside Ukraine. Free to the news media.