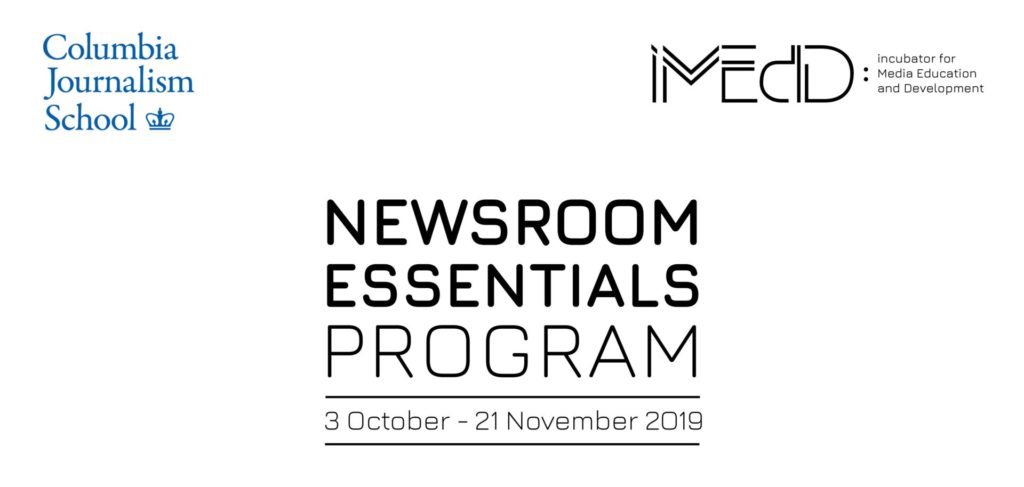 The new thematic cycle of Ideas Zone titled "Newsroom Essentials", which is designed and delivered by Columbia Journalism School, will cover the practice of data, multimedia, investigative, and entrepreneurial journalism in a condensed eight weeks. This program integrates key lessons from Columbia Journalism School's signature programs: Summer Investigative Reporting Course, Lede, Columbia Journalism Video Workshop, and Sulzberger Executive Leadership Program.
The program begins on Tuesday, October 1 and runs through Thursday, November 21, 2019. Twenty journalists total will be selected by the faculty of Columbia Journalism School. The program will be hosted at iMEdD premises and will provide all necessary technology on-site during the course of the program.
Applications to this program open on Monday, July 22 and will close at 23:59pm on Monday, September 9, 2019. Successful applicants must be comfortable speaking, writing, and learning in English. Applicants must be currently working as journalists for a news organization or as a freelance journalist and must have a minimum of three years of professional experience in order to be considered.
For questions regarding the program curriculum and delivery, please contact Kate Kennedy, Assistant Director, Professional Programs Columbia University Graduate School of Journalism at [email protected]
For questions regarding iMEdD, please contact Anna Zilakou, Operations Director, iMEdD at [email protected]