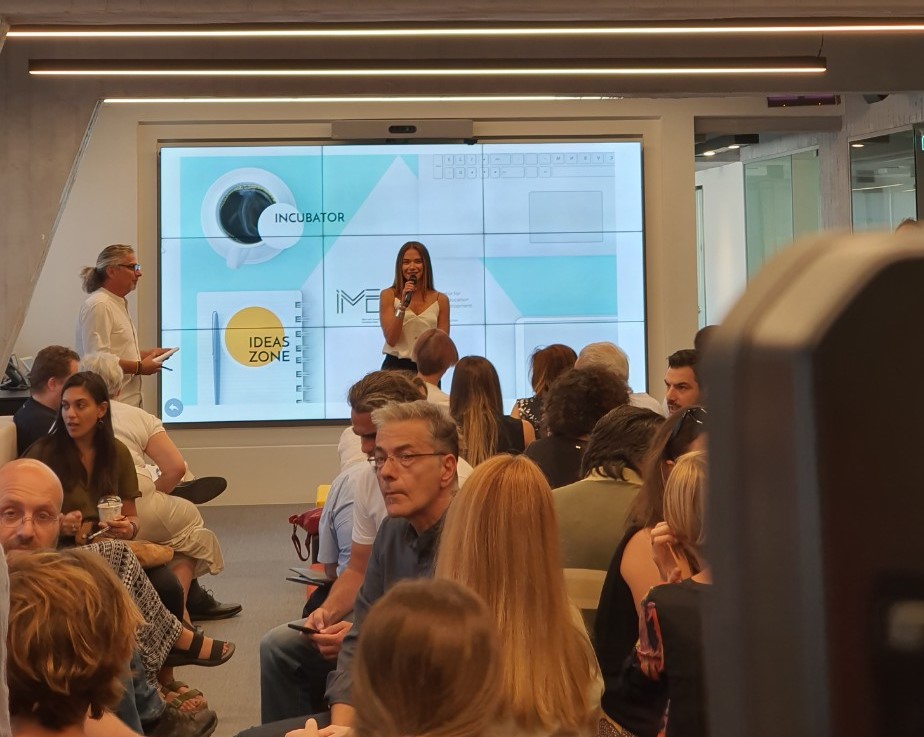 After 7 very active months with 3 pillars already in motion and a fourth launched today, 41 program participants, 25 lecturers, 30 mentors, 5 special events and 60 hours of workshops and discussions, iMEdD – Incubator for Media Education and Development , a non-profit organization, founded in 2018 with the support of Stavros Niarchos Foundation (SNF), presented its action plan for the coming months. The purpose of the organization is to support and promote transparency, credibility, independence and excellence in journalism.
Its first pillar of action is "Ideas Zone", a program of exchange and dissemination of know-how, best practices and experience from well-known industry professionals from Greece and abroad. The first cycle of Ideas Zone titled "The Day After: New Models, New Tools, Different Reality" was completed last June. Journalists from Greece and abroad, academics and other professionals shared their experience and exchanged ideas and thoughts for the next day in journalism with the participants. Specifically, the program was attended by Haris Karanikas, Yiannis Pantelakis, Yiannis Papadopoulos, Tasos Telloglou, members of the Investigate Europe team, Eva Constantaras, Yiannis Drenogiannis and Panos Konstantopoulos. From the Greek academic community, Nikos Panagiotou (AUTH), Marina Rigou (NCSR) and Yiannis Skarpelos (Panteion University) and from the USA, Nicholas Lemann (Columbia Journalism School) also participated. CSIS introduced storytelling and visualization tools, and the authors of The Misinformation Age, Cailin O'Connor and James Weatherall developed their theory of the spread of fake news. Finally, we explored different models of sustainability and operation of journalistic organizations in Greece and abroad, such as the Efimerida ton Syntakton, Inside Story, BIRN and Nation.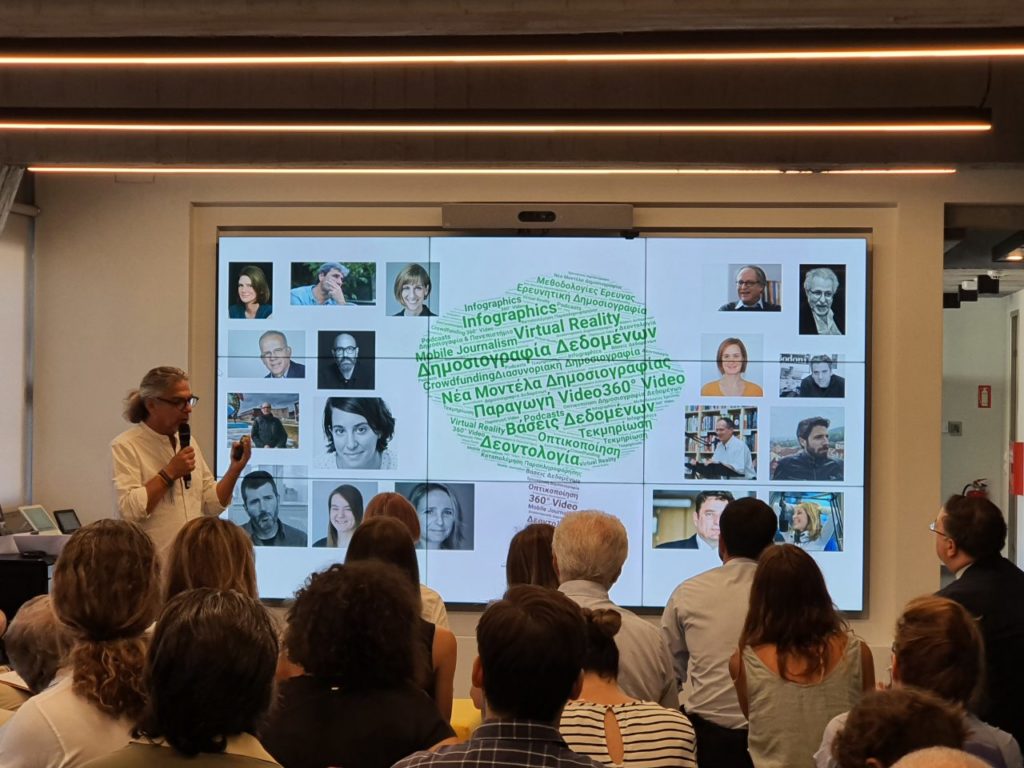 The next cycle of the Ideas Zone, titled "Newsroom Essentials", will be launched on October 3, designed and delivered by Columbia Journalism School. Data journalism, multimedia, investigative journalism and the concept of entrepreneurship in journalism are the main topics that will be covered in an intensive period of familiarization of Greek journalists with the above subjects by Columbia Journalism School teachers which will be completed in mid-November.
At the same time, workshops and targeted events focused on specific topics will be held with guest speakers from Greece and abroad. Indicatively, at the end of September the first workshop of the new cycle will focus on the VR360 video technique, while in November iMEdD will work with the AUTH Department of Journalism to organize the first 4-day Certified Journalists Field Safety Training School.
The second pillar of iMEdD, the "incubator", launched its first cycle in April and today hosts 7 projects and provides them with all the tools and know-how needed to bring their ideas to life. Projects cover a wide range of activities and areas of interest, such as documentaries, digital platforms, journalistic research, photography and more. As part of the program, participants have access to strategic mentoring and networking opportunities with renowned professionals from Greece and abroad, the opportunity to participate in workshops and events organized by iMEdD, a fully equipped workplace and all the necessary equipment and services to materialize their ideas. The application process for the second round has begun and will last until October 15th.
Under a third pillar, with the name "Bridge", iMEdD uses journalism as a means of expression and as a vehicle of democracy for groups of the population without access to information sources and decision-making centers. Under this pillar, the organization supported Global Girl Media, a citizen journalism training program that promotes the voice of young women. Specifically, the program provided 12 young women from Afghanistan, Iran, Syria and Turkey the opportunity to train in video production and the usage of journalistic tools in order to enable them to express themselves, share their experiences and also record through camera their daily routine, their own and other young people's views on issues such as freedom and refugee. Other similar initiatives will follow in the coming period.
With the aim of spreading ideas and disseminating know-how and good practices to the journalistic community, iMEdD has also organized a series of events with guest speakers from Greece and abroad. In particular, it hosted, among others, Matt Winkler, co-founder of Bloomberg News, Terry Egger, Publisher and CEO, The Philadelphia Inquirer, PBC, and Paul Steiger, Executive Director, ProPublica.
Lastly, today the fourth pillar was launched, titled "Lab", which is is iMEdD's content production division which publishes original interactive investigative and data-driven stories and content deriving from iMEdD's programs and activities. It also features people and ideas who change the industry. iMEdD Lab is experimenting with new forms and tools in journalism while it supports journalists and researchers who are interested in adopting them.
IMED's goal is to build an innovative and creative community of journalists and professionals through the interactions of all participants in the organization's programs.
άθε δημοσιογράφο ή ερευνητή στην υιοθέτησή τους.
Στόχος του iMΕdD είναι μέσω της διάδρασης όλων των συμμετεχόντων στα προγράμματα του οργανισμού να χτιστεί μια καινοτόμος και δημιουργική κοινότητα ανεξάρτητων δημοσιογράφων και επαγγελματιών του χώρου.