On Friday 1 July, iMEdD held its first discussion outside Athens, themed "The Next Day of Regional Media", as part of the Organization's Local News initiative.
Using Ypsilon cafe in Thessaloniki as their meeting point, journalists, editors, publishers and academics from Macedonia and Thrace discussed the importance of defending the regional Press in an era of distrust in mainstream media and highlighted the need to build a community of local journalists in a span of more than five hours.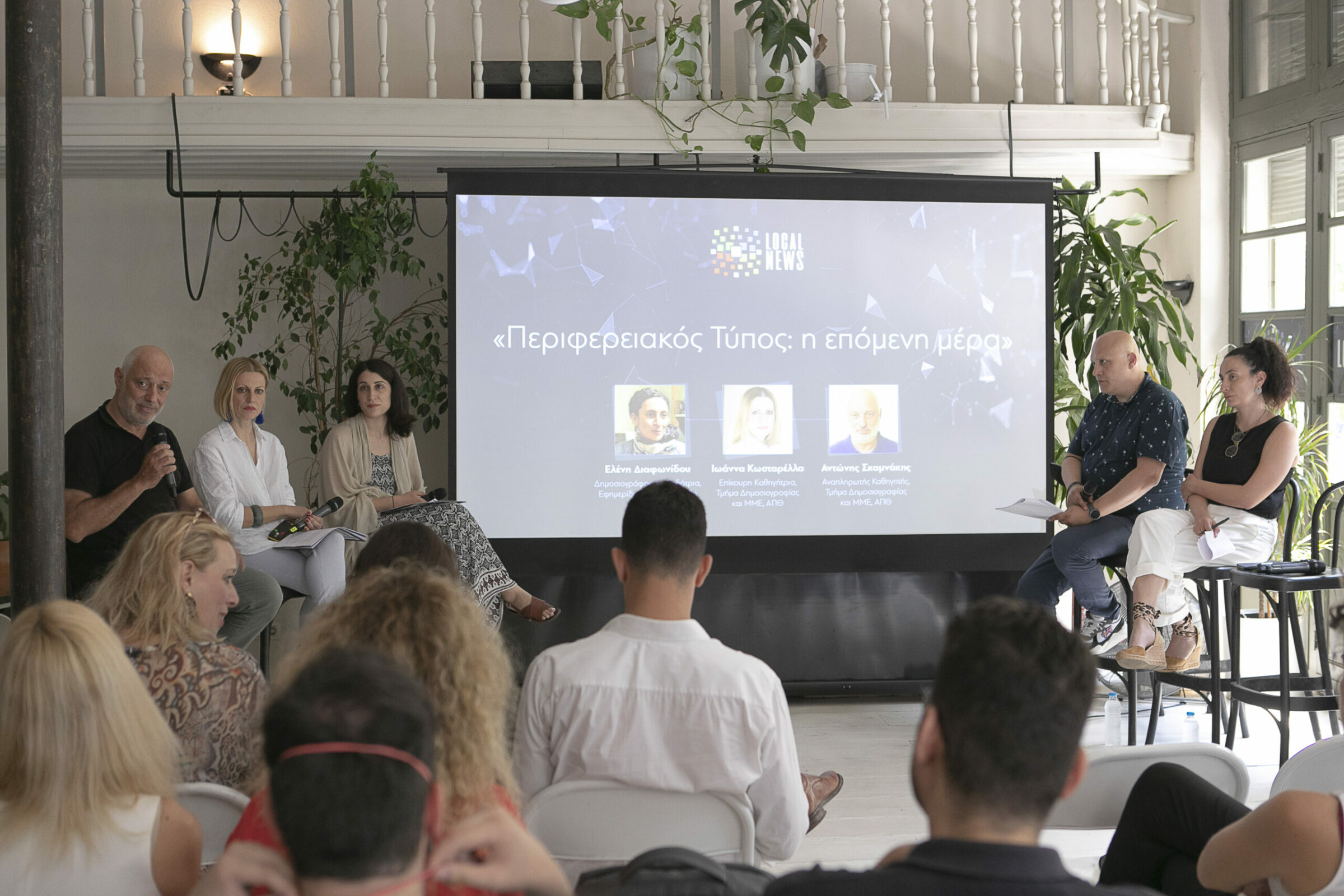 "The value of the regional media is becoming increasingly prominent and we must support and invest in local media outlets to ensure their continued existence." With these words and on the occasion of this year's Reuters Institute report (Digital News Report), which shows increased trust of Greeks in regional media – a stark contrast with their general mistrust in journalism as a whole – iMEdD's co-founder, Programs Manager and journalist, Stratis Trilikis welcomed his colleagues together with journalist and iMEdD Project Manager, Nikolas Aronis.
The first panel, titled "The invaluable value of local news", was attended by the head of the Athens-Macedonian News Agency's (AMNA) branch in Thessaloniki and journalist at "Kathimerini" newspaper, Stavros Tzimas, journalist and editor of "Parallaxi" magazine Giorgos Toulas, "Macedonia" newspaper journalist Sofia Christoforidou, news247.gr journalist Kostas Koukoumakas and Kostas Giastas, journalist at "Eleftheria" newspaper in Larissa. During the discussion, everyone seemed to agree that, although the future of print journalism and the regional Press looks bleak, there are still prospects for change. Both speakers and the audience stressed the importance of "small news" and local investigative journalism in informing communities, and the imperative need to build a collaborative culture aimed at improving the quality of local and supra-local content.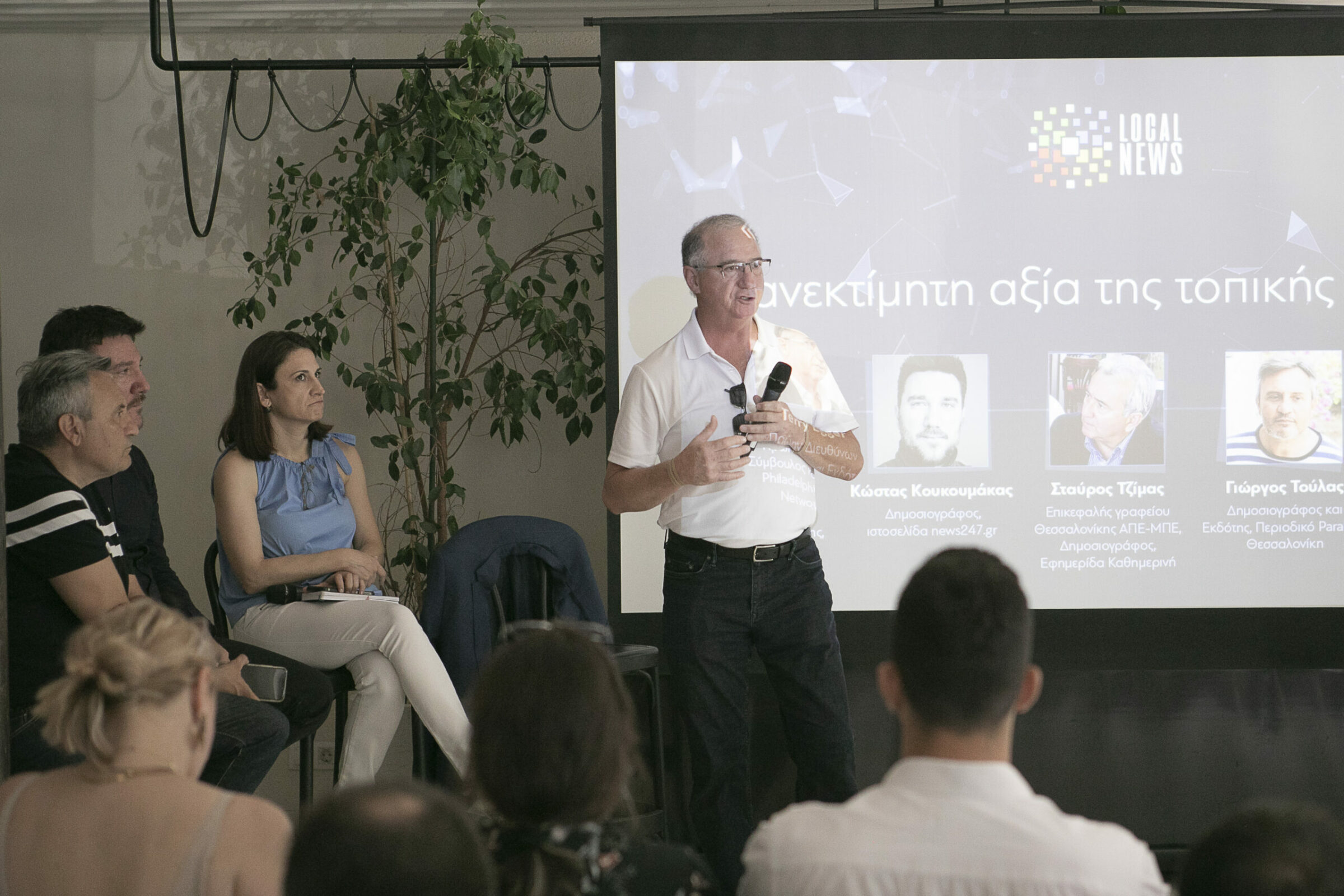 Joining the discussion was Terry Egger, former CEO and publisher at Philadelphia Media Network Inc., who spoke about the value of local news and the role of the journalist in the community. He specifically referred to collaborative models, citing the partnership between competing publications in the state of Philadelphia as an example of improved coverage of local news and concluded by emphasising the need for journalists to be in constant dialogue with their local community.
The second panel, titled "Regional Press: the next day," was joined by academics Antonis Skamnakis and Ioanna Kostarella, as well as journalist/editor Eleni Diafonidou. Aristotle University's Associate Professor at the School of Journalism and Mass Media Antonis Skamnakis kicked off the discussion with a historical look at the local and regional press in Greece.
Next, Ioanna Kostarella, Assistant Professor at Aristotle University of Thessaloniki's School of Journalism and Mass Media, focused on the dilemmas and opportunities that arise from the digital transformation of local media and went on to enlist funding schemes for journalism projects undertaken by journalists, journalistic organisations, and journalism teams conducting cross-border investigations. She then yielded the floor to journalist and editor at Xanthi's "Embros" newspaper Eleni Diafonidou, editor of "Chaniotiki Nea" Paraskevas Perakis, and Ioannina's typos-i.gr co-founder Giorgos Tsantikos, who all underlined the significance of journalists being in direct contact with their audience and explained how interaction with local media is tied to trust in community news.
They also made mention of media business models and described how they can be dynamically linked to the local community through editorial activity and other events. The panel was moderated by iMEdD journalists and Project Managers Nikolas Aronis and Katerina Voutsina.
The event wrapped up with an open discussion titled "New skills for upgrading content quality," moderated by iMEdD journalist and Project Manager Dimitris Bounias and Stratis Trilikis. "Kathimerini" journalist Yannis Papadopoulos, Kozani's "Kronos" newspaper editor-in-chief Sokratis Moutidis, AMNA's Alexandra Gouta and news247.gr journalist Kostas Koukoumakas pointed to the value of individual initiative and collaboration with colleagues from other disciplines in content production. They also discussed the allure of local journalism, the new skills journalists can acquire, and the so-called "soft skills" they need to practice to promote content: creative thinking, good memory skills, collaborative ability and entrepreneurial spirit. "In the end, it's the story that matters," said Kostas Koukoumakas, emphasising the power of reporting and adding that skills – whatever they are – should be the backbone of storytelling and journalistic research.
The discussion was also virtually joined by Shirish Kulkarni, journalist & community organiser at UK's non-governmental organisation The Bureau Local, Tarjei Leer-Salvesen, freelance investigative journalist in Norway and Nicholas Dawes, Executive Director at THE CITY, New York. They provided practical advice on community-based reporting and research (Shirish Kulkarni), the evolution of local newspapers' business model (Tarjei Leer-Salvesen) and the invaluable value of local news for citizens and society (Nicholas Dawes).
The overarching theme of the three discussions was the need to strengthen the community of journalists working regionally. The next step to be pursued is the development of partnerships, both to promote content and to foster deeper and more comprehensive journalistic research.
*iMEdD's local news initiative will continue with similar events in the near future in other regions of the country in order to highlight the value of local news and the importance of establishing a collaborative culture to enhance the content and quality of journalistic output.