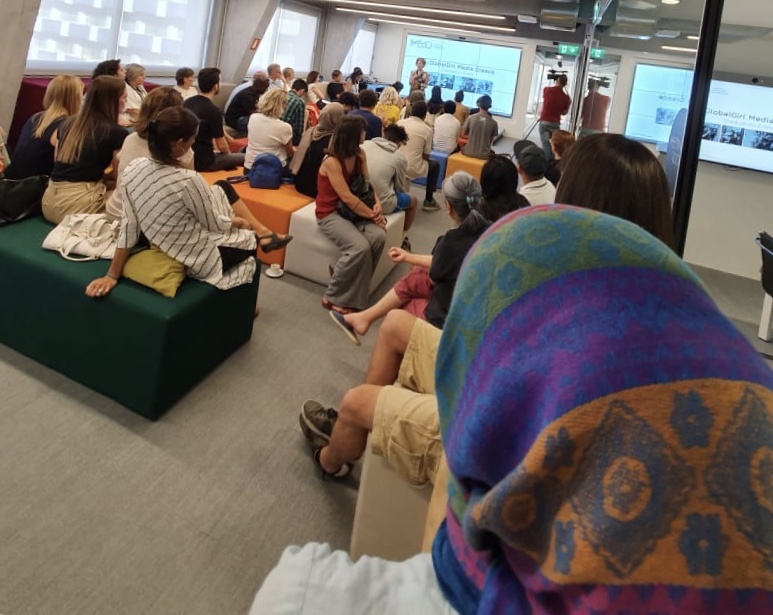 The graduation event at iMEdD, a non profit organization supporting new age journalism, completed the citizen journalism training program Global Girl Media promoting young women's voices, that was held in Greece for the first time.
12 young women from Afghanistan, Iran, Syria and Turkey participated in a 6-weeks training program on video techniques and journalism tools, hosted at iMEdD. In the framework of this program, they created four short videos, focused on their experiences integrating to a new life in Greece. Part of the training was also held in collaboration with The Melissa Network, a network for migrant women that promotes empowerment, communication and active citizenship.
The videos premiered at the event and were followed by a panel discussion, hosted by journalist and Managing Director of iMEdD, Anna Kynthia Bousdoukou on the theme: "New Journalism for a New Era: Why Girls Voices Matter". During the discussion, two of the participants in the program shared their story and future plans and the head of Global Girl Media, Amie Williams, described the program and the past experience from the US and Africa.
GLOBALGIRL MEDIA (GGM) develops the voice and media literacy of young women, ages 16-22, in underserved communities by teaching them to create and share digital journalism designed to break gender boundaries, ignite community activism and spark social change.
iMEdD's support to the Global Girl Media program launches a new pillar for utilizing journalism as a tool for freedom of expression and a vehicle of democracy for population groups that do not have access to sources of information and decision-making centers. This specific program offered to 12 young women the chance to express themselves, share their experience and report on camera their everyday life and views of their own and others on issues like freedom and the refugee issue.